FASHION
Ramadan 2021 Collection
Get your wardrobe ready for the celebration with our elegant clutch bags and stunning gem-embellished shoes.
This year, we have teamed up with Saudi Arabia-based style influencer Nia Amroun (@niaamroun) – who inspires hundreds of thousands of followers daily with her polished and sophisticated outfits – to showcase our Ramadan 2021 collection. Featuring elegant clutch bags and stunning gem-embellished shoes, the collection exudes modern glamour and is made to complement modest wear perfectly.
"My style comes in many forms – it depends on the time, place and occasion," Nia explains when asked to describe her personal style. "However," she continues, "I tend to take a minimalist approach to fashion." This is evident from her Instagram feed, which features row after row of monochromatic outfits, a signature look that she easily recreates for the occasion.
Dressed in head-to-toe black, Nia completes the look with our matching gem-embellished slingback flats. They are her favourite item from our Ramadan 2021 collection because they are "comfortable and easy to put on".
Light and bright, Nia's second outfit is the complete opposite of her first. She reaches for accessories in pastel colours, such as our push-lock quilted clutch and crystal-embellished slingback pumps, to complement the breezy and feminine aesthetic. Nia's sartorial readiness is a reflection of her excitement for the spiritual holiday. "I look forward to doing some self-reflection and gathering with my family and friends this Ramadan," she shares. As the month of Ramadan coincides with spring, these elegant pastel pieces promise fashion mileage that will see Nia or anyone through the warmer months in great style.
As seen on our cover star Nia Amroun (@niaamroun), these crystal-embellished slingback pumps will make your feet sparkle. Elegant and eye-catching, they will put the perfect finishing touch on your stylish outfits.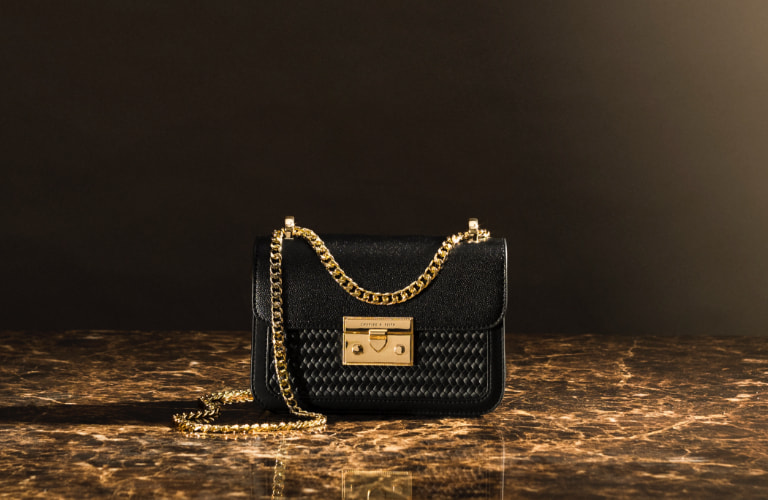 You can never go wrong with a little black bag embellished with classic gold hardware. Glam and modest at the same time, it exudes understated elegance and is the perfect plus-one to bring to your celebrations.
Turquoise is very much in vogue this season. Whether you prefer our barely-there sandals, slingback pumps or trapeze top handle bag, they are bold and vibrant pieces that will complement the celebratory mood.
Add tactile dimension to your look with this gorgeous quilted clutch. In a lovely pastel shade, it will imbue your outfit with feminine charm. Pair it with a dark outfit to create a colour contrast that will make the clutch pop.
Featuring eye-catching embellishments, these shoes are great for both everyday wear and special occasions. Reach for our slingback pumps to elevate your stature or our flat mules for a more comfortable footwear choice.