From the streets of New York to the sidewalks of Paris, influencers and celebrities alike were spotted in standout accessories from the playful and vibrant CHARLES & KEITH Spring Summer 2023 collection. They include the Petra curved shoulder bag and Vita square-toe slingback pumps.
Amy Lefévre
Amy Lefévre created a visually striking outfit with clashing colours. The content creator accessorised her green skirt suit with the yellow petra curved shoulder bag and red buckled cylindrical heel Mary Jane pumps.
Cynthia Taylu
The iconic Koa bag is back this season in new sizes and colours. Model Cynthia Taylu reached for the brick red version in original size to add a rich pop of colour to her dark blue coat.
Jace Chan
Create a cool street style look like Jace Chan's by slinging the Petra curved shoulder bag across your body for a laid-back aesthetic. The singer nailed transitional dressing by pairing the woven trapeze heel buckled sandals with classic white socks.
Marina Ingvarrson
Marina Ingvarsson looked chic and polished on the streets of New York in a pantsuit. She styled them with the yellow Vita square-toe slingback pumps to create an eye-catching monochromatic outfit.
Martha Luna
Matching the colour of her bag to the stripe details on her outfit, Martha Luna demonstrated attention to detail and looked effortlessly put together.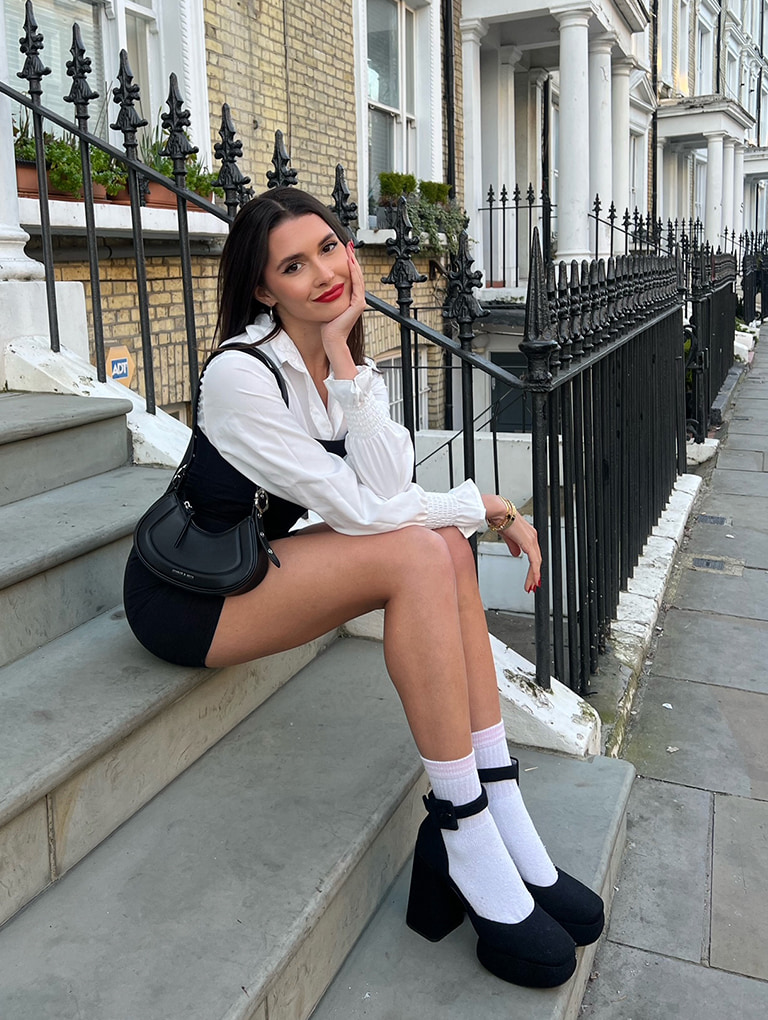 Chiara King
Singer Chiara King kept her London Fashion Week outfit classic in head-to-toe black and white with the Petra curved shoulder bag and buckled d'Orsay platform pumps from the Spring Summer 2023 collection.
Beka
The embellished buckle patent Mary Janes were the perfect complement to BEKA's preppy chic ensemble. In classic black, they anchored her colourful pastel look.
Olivia & Alice
Always seen together in matching outfits, stylish sisters Olivia and Alice sported the same coat and shoes at London Fashion Week. The shoes are a pair of elegant d'Orsay pumps from the iconic CHARLES & KEITH Gabine range.
Parisa Wilkinson
A chic monochromatic ensemble will always stand out. Parisa Wilkinson's head-to-toe green outfit — made possible with the Vita square-toe slingback pumps — is impossible to miss.
Anouchka Gauthier
To add visual interest to her simple and sophisticated fashion week outfit, content creator Anouchla Gauthier put the finishing touches on her look with the Zania d'Orsay wedges with striking sculptural heels.
CAMILLE MARTINOT RIGA
By pairing an impossible-to-miss leopard-print coat with white socks and square-toed bow slingback pumps, Camille Martinot Riga put together an ensemble that blends confident flamboyance and stylish modesty.
KAT COLLINGS
Kat Collings relied on the timeless elegance and polished sophistication of black bags and shoes to complement her fashion week outfits. Her favourite go-to accessories include the Gabine leather d'Orsay pumps, the Zania sculptural d'Orsay wedges and the Petra curved shoulder bag.
MELISE KREM
Known for her ultra-chic, neutral-toned outfits, Melise Krem understands how visually powerful an all-black outfit can be. Accessorising her sharp pantsuit with the distinctive gold-accented black Charlot bag, she created a standout look that is understated and rich in details at the same time.