As the days grow shorter and the summer heat gives way to cooler weather, it's time to embrace the turn of the season with a fresh new style. Our latest fall line-up revolves around sculptural bags and shoes with a minimalist touch, alongside timeless transeasonal essentials, emphasising form, function, and versatility. Featuring ochres, browns, soft whites and warm neutrals, these accessories with a mid-century modern colour palette will slot seamlessly into your wardrobe rotation.
Terracotta Tones
Embrace the rich, warm hues of fall that beautifully mirror the shift in the season and landscape. Deep burnt oranges and ochres, earthy espressos, and milky chocolate browns perfectly capture the essence of nature and autumn's falling leaves — they are gorgeous and versatile shades that can be easily incorporated into any wardrobe. Lean into this new palette with accessories like the Gabine leather crossbody bag in cognac, which strikes the perfect balance between rustic charm and contemporary elegance.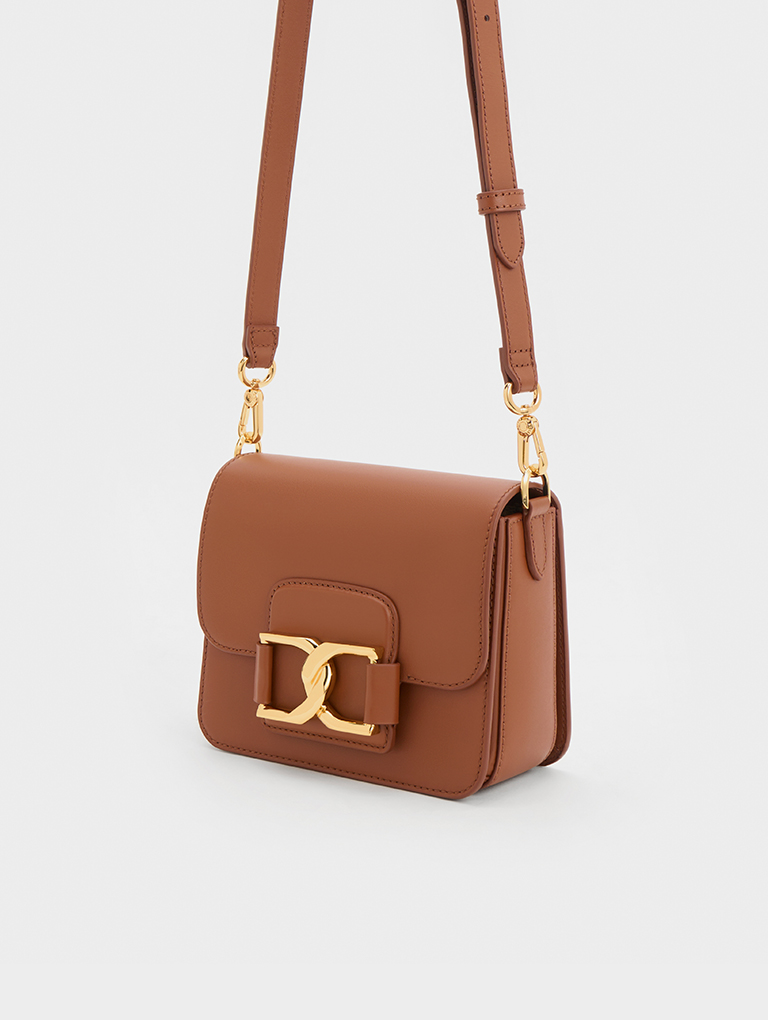 Sculptural Silhouettes
As we step away from youthful summer hues and whimsical designs, it's time for accessories that exude understated elegance and sophistication. Black and white may be classic, but these bags are far from boring. With their striking angles and smooth curves, they easily catch the eye and add a visually interesting finish to your outfits. Make a subtle style statement with pieces like our mini Cocoon top handle bag, which features a sleek sculptural silhouette. The Cressida chain bag, which charms with its unique trapeze silhouette and tactile tweed finish, will elevate any ensemble.
Minimalist Heels
The key to acing your style game lies in mastering the basics, and these minimalist footwear options are cases in point. Embracing the 'less is more' approach, these pared-back shoe styles in clean blacks and stark whites will add an air of easy elegance to any ensemble. Fashion purists will naturally gravitate towards timeless styles like our Kyra pumps, which feature stiletto heels and a genuine patent leather finish. If you're a style maverick, the Delphine platform mules and Pixie platform Mary Janes are the perfect choices for you. Featuring visually striking silhouettes and larger-than-life chunky block heels, these shoes will instantly elevate your look.
Transeasonal Boots
Equal parts functional and fashionable, boots are a closet staple for good reason. Versatile enough to wear during the balmy days of late summer while providing the necessary warmth to protect against the chill of early fall, they effortlessly bridge the gap between the changing seasons. Evergreen styles like our Giselle patent Chelsea boots are a must-have addition to your collection. Available in classic black, they effortlessly match with everything and anything in your wardrobe. The boots also feature moderately chunky soles, providing a height boost that doesn't compromise on comfort.