CHARLES & KEITH Japan held a special fashion showcase in Omotesando, Tokyo, for press and influencer friends of the brand to celebrate the launch of our Fall 2022 collection. During the event, models donned this season's outstanding Lula patent shoes and bags, as styled by celebrity stylist Mana Kogiso.
Attended by celebrities and trendsetters, including Ai Takahashi, Mademoiselle Yulia and Tina Koyama, it featured catchy DJ performances by AMIAYA and model Hibiki. Guests were also invited to an atmospheric backstage area, where they could try on make-up looks as seen on the models fronting the brand's new collection on the runway.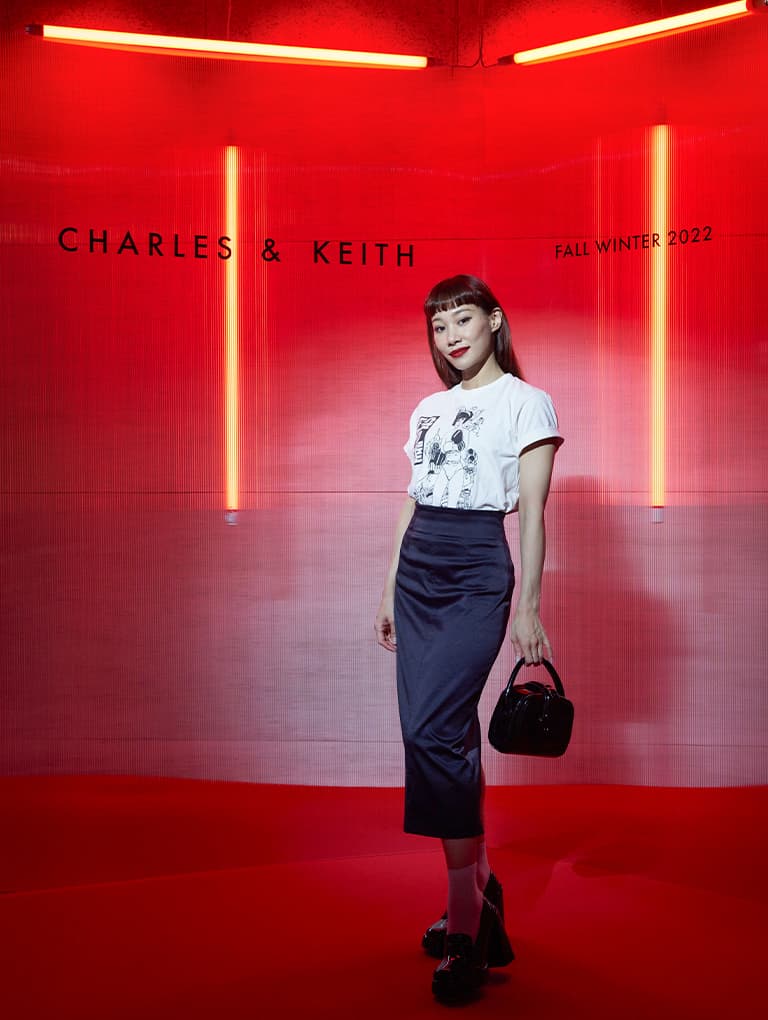 MADEMOISELLE YULIA
Dressed in a youthful and trendy outfit consisting of a white graphic t-shirt and a polished black midi-skirt, DJ and stylist Mademoiselle Yulia completed her look with the Lula patent loafer pumps and Lula patent belted bag in matching black. The resulting ensemble is casual yet sophisticated — perfect for a fun fashion party.
AMI & AYA
Identical twins and creative directors Ami and Aya arrived in matching pink hair and pretty tiered dresses. To give their feminine outfits an edgy shine, they accessorised with eye-catching pieces from our Lula range. While both of them opted for the Lula patent block heel boots in red, each picked out her favourite colour — turquoise or light grey — of the Lula patent belted bag.
SONIA YAMAMOTO
Fashion model Sonia Yamamoto proved that simple can be stylish. Wearing a cropped top and flattering flared jeans, she finished off her relaxed look with the Lula patent loafer pumps and Lula patent belted bag in chic light grey — her colour-coordinated accessories elevated her outfit, bringing it from good to great.