As the weather warms up, it is time for the little ones to head back outdoors and soak up the sun. When they do, make sure that they look their best with our Spring 2020 kids collection. Designed with both style and comfort in mind, the collection features classic shoe styles – such as sneakers, ballerina flats and strappy sandals – with new spring-friendly tweaks. They are also embellished with sequins, ruffles and monster claws that make them look extra fun and playful.
Inspired by a child's wild and wonderful imagination, these furry rainbow-coloured shoes are a highlight of the collection. Fashioned to look like a little monster's feet, this cute and cosy pair is perfect for playing make-believe.
Everybody needs a good pair of sandals to see them through the warmer months – this version for kids is playful and sweet. Featuring woven textures and fringe trims, the blue pair has a wow factor while the beige one offers versatility.
David the duck will be your little girl's new best friend. Found on backpacks, high-top sneakers and ballerina flats, its eye-catching yellow coat will add some cheer to her spring wardrobe. No matter where she is going, she will want to bring him along.
Inspired by the striking appearance of ladybirds, our tote bag and laser-cut sandals feature a black-and-red polka dot design. They are also available in other colour combinations – white and silver, as well as nude pink and rose gold – to give your little girl more stylish options.
From pearl studs to scallop trims, every inch of these Mary Jane flats is covered with pretty details. Pair them with dressy socks for a combination that is as comfortable as it is adorable.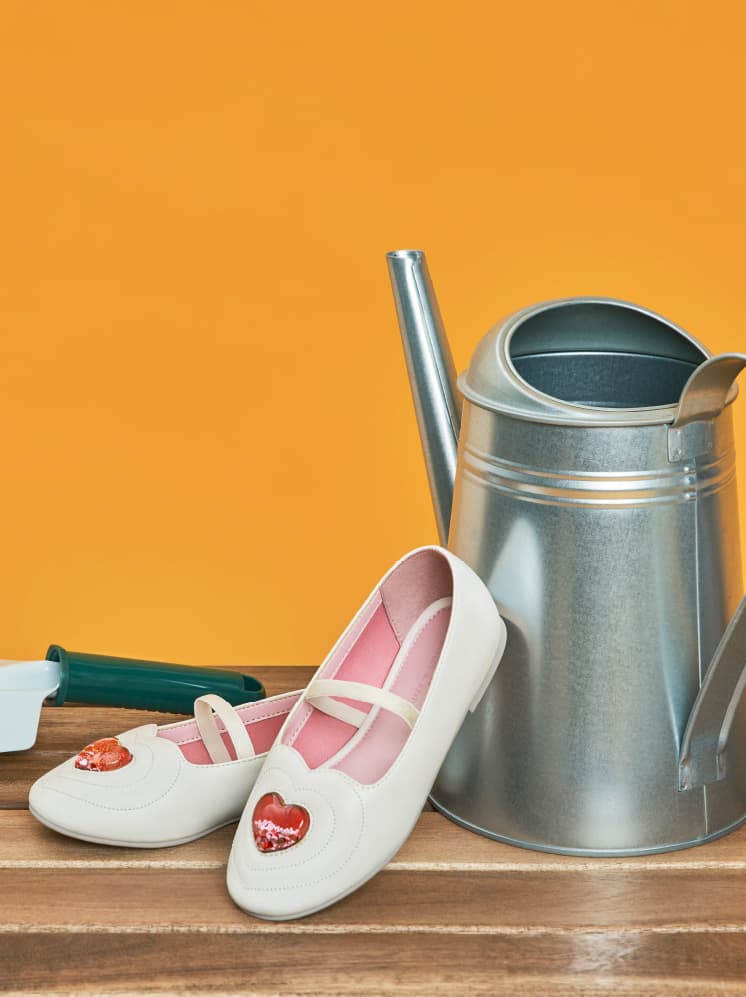 Embellished with elegant metallic bows, these Mary Jane flats are great for special occasions. In lovely shades of pink, they will tickle your little one's fancy – fuchsia adds a bright pop of colour whereas nude makes for an understated look.
These ballerina flats are fuss-free and so much fun to wear. Whether she is attracted to the cute duck or sequin heart design, these shoes will make her eyes light up.
These are not your typical white sneakers. Featuring bold ruffles, ribbon embellishments and slingback straps with a heart-shaped print, they exude a girlish charm that your mini-mes will find irresistible.
Easy to slip on and walk in, ballerina flats are a must-have in every little girl's wardrobe. Featuring an eye-catching heart-shaped ornament, this simple yet striking pair will go with most outfits she puts on.