TRENDING: BEADED SHOES & LACE-UP PUMPS
Details can make all the difference. Beautiful pearl-like beads add a touch of feminine elegance to the traditionally masculine loafers, creating a chic, androgynous look. At the same time, a lace-up design breathes new life into simple pointed-toed pumps, making them look extra cool, edgy, and exciting.
Lace-Up Pumps
Featuring a warm, earthy sand finish, the Landis lace-up pumps look incredible in the day when the sun hits them and also at night. Hence, they are great for all-day wear and will get you through a busy work week in effortless style. Tie the laces around your ankles for a secure fit or up and around the calves to make a bold statement.
Beaded Sandals
White beads emulate the look of pearls and will add the same touch of sophistication to your look. They create a striking visual contrast with the timeless black finish of these platform sandals and will make you stand out despite their understated colours. They also offer a flattering boost in height without compromising comfort.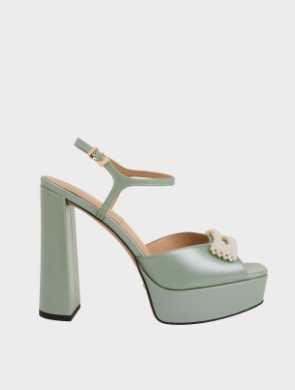 Bead-Embellished Leather Platform Sandals