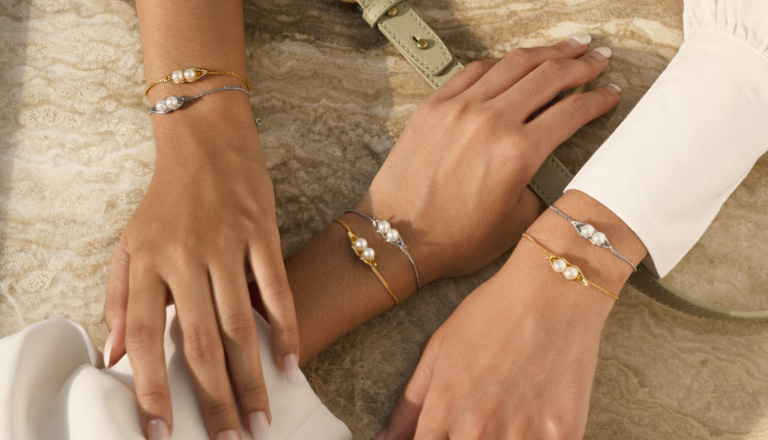 FESTIVE
The Power Of Friendship
This International Friendship Day, we celebrate the power of friendship with siblings and best friends Maria, Elizabeth and Agnes Rahajeng.
Siblings are not always friends. However, for Instagram-famous sisters Maria, Elizabeth and Agnes Rahajeng, the friendship comes naturally. Maria and Elizabeth, who are also twins, attribute the effortlessness to shared interests and hobbies. "Fashion, travel, and music – these are passions all three of us have in common. We just have so much fun doing life together, and we genuinely enjoy each other's company," Elizabeth explained. Although Agnes is eight years younger, the age difference does not seem to stand between them. She feels like she "learns a lot from [her sisters] about fashion, make-up, work, and life in general".
But what makes friendships among siblings unique, and how is it different from regular friendships? According to all three sisters, it is the deep connection and unbreakable bond that set them apart. "Sibling relationships are the longest intimate relationships we will have in our lives! No matter how hard we fight or disagree, we'll always be family at the core of it," Elizabeth remarked and Agnes agreed. "At the end of the day, blood is thicker than water," she added.
To celebrate the special occasion and their unique friendship, the stylish Rahajeng sisters donned matching bracelets from our limited-edition collection. Inspired by the phrase "like two peas in a pod", the bracelets feature sculptural pea pods and beautiful lustrous pearls that symbolise their unshakeable bond. They are available in both gold and silver finishes, which you can stack together for a chic and polished look.
Although these bracelets are created to celebrate International Friendship Day, they can be worn beyond this occasion. In fact, their elegant design is perfect for everyday wear. Identical twin sisters Maria and Elizabeth are drawn to the gold bracelet because they like that it is "so classic and adds that bit of luxury to any outfit". On the other hand, Agnes prefers the silver one. "Layering it with other jewellery would be a nice touch," she said.