SUMMER 2022: MUST-HAVE STYLES
FASHION
Summer 2022:
Must-Have Styles
A preview of the must-have bags and shoes for the hottest season of the year.
With the weather getting warmer by the day, most of us are looking forward to switching up our styles and incorporating lighter and brighter pieces into our everyday ensembles. From colourful and eye-catching shoes to bags with distinctive silhouettes, the accessories from our new seasonal collection exude a sense of fun that will chase away the humdrum of your daily routine.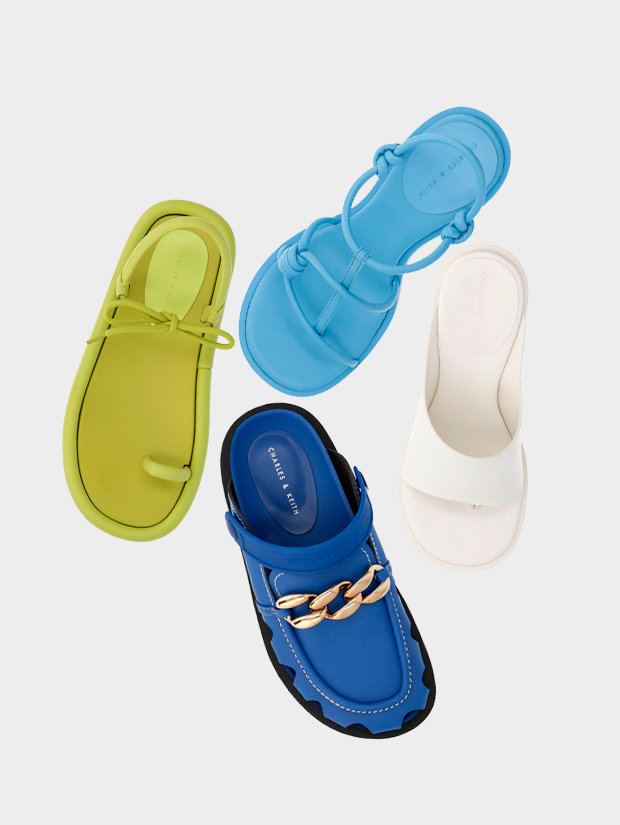 Flamboyant Footwear
Technicolour hues are all the rage this season. Dip your toes into the trend with colourful shoes that make a loud fashion statement. Whether you prefer our chain-embellished flat mules in brilliant cobalt blue or toe-ring padded sandals in refreshing lime green, they will make your warm-weather outfits pop.
Chunky Soles
The appeal and popularity of chunky soles show no signs of slowing. Offering a style and height boost without sacrificing comfort, it is easy to see why they are so coveted. We have applied them to '70s-inspired clogs, modern sneaker mules and everything in between, so anyone can go about their busy days while looking effortlessly chic.
Distinctive Silhouettes
Elevate your summer looks with bags that boast a distinctive silhouette. Their playful shapes will add flair to your outfits and make them look even more remarkable. Go bold with the bright blue "jelly" shoulder bag and its beautiful curves, or keep it classic with the elegant and versatile hobo bag that features a circular handle.
Coming Soon:
Summer 2022 Collection
Sign up for our newsletter to be the first to know about the launch.