The Koa push-lock shoulder bag from our Spring Summer 2022 collection has all the makings of a new classic. It is timeless, versatile, and distinctive. It is also a favourite of our global brand ambassador, Krystal - a testament to its stylish appeal. Available in a wide range of colours, there is a Koa bag for every style and personality. Create standout monochromatic looks with your favourite hue to add a splash of colour to your summer.
Create a failproof outfit with our Koa shoulder bag and lace-up blade heel sandals in classic black. Pair the latter with contrasting socks to put a fashion-forward twist on the look. Alternatively, reach for the orange Koa bag to add extra zest to a cute little summer dress. By choosing shoes in a different shade of orange, you can make the ensemble look even more outstanding.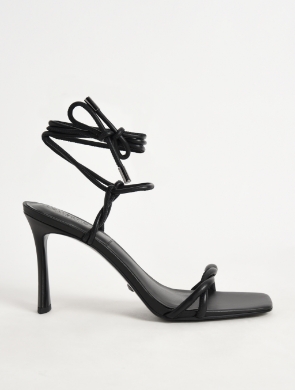 Leather Lace-Up Blade Heel Sandals
Green is fashion's favourite colour of the moment and you can embrace the trend by reaching for our Koa shoulder bag in the refreshing shade. Evocative of nature, it is the perfect arm candy to step out with this summer. Make this bright and gorgeous piece pop by pairing it with a simple, dark denim co-ord.
Our Koa shoulder bag in beige is just as versatile as the black version but with a more striking appearance, perfect for those who prefer dressing in brighter and lighter outfits. If you are feeling a little more adventurous with your colour choice, go for the Koa bag in pretty pink - it will add a touch of girly charm to any ensemble, especially when paired with our matching Morgan slide sandals.
Canvas Low-Top Chunky Sneakers
Available in a range of vibrant yet versatile colours, the Koa bag has captured the hearts and imaginations of fashion trend-setters all over the world. Need some inspiration on how to style your Koa? Take cues from the chic and creative looks below.
KIKI
@venuskiki
Model Kiki created a boho-chic look with a white eyelet dress, a brown vest and a printed silk scarf. She completes this summery earth-goddess ensemble with our Koa square push-lock shoulder bag in muted orange, and a bouquet of flowers in her arms.
VIOLET GRACE ATKINSON
@violetgrace_
To put her green Koa square push-lock shoulder bag in the spotlight, Australian creative director Violet Grace Atkinson keeps her outfit sleek and simple. Her tailored beige pantsuit is a great neutral match for the striking statement bag — the resulting combination is both understated and eye-catching.
OLIVE ENG CANTY
@oliveengcanty
Sometimes, more can be more. To amp up the wow factor, TikTok star Olive Eng-Canty created a maximalist look by wearing a colourful gingham co-ord set over a sheer lace top. She balances the experimental mood of her look with the elegant and classic Koa square push-lock shoulder bag in orange.