FALL 2021 LITTLE COLLECTION: SMALL WONDERS
FASHION
Fall 2021 Little Collection:
Small Wonders
Budding trendsetters Mia, Tati, Chloe and Jasmin step into fall with CHARLES & KEITH
The CHARLES & KEITH Fall 2021 Little Collection is made for fashion-savvy little girls who love to dress up. The autumn-friendly designs in this trendy range have caught the eyes of some of the most influential mini style mavens around the world, including Mia and Tati Escalante, Chloe Robertson and Jasmin Malofey. Read on to find out how they have incorporated our latest kids' shoes and bags into their fall outfits.
MIA AND TATI ESCALANTE
Instagram-famous sisters Mia and Tatiana Escalante from Sydney, Australia are known for their stylish matching outfits and cool poses. Dressing up in bright over-sized parkas, they accessorise their street-chic ensembles with lace-up ankle boots and chunky Mary Janes in eye-catching tweed — a sweet bucket bag featuring an adorable duck print adds a touch of playful charm.
CHLOE ROBERTSON
British-Korean model and influencer Chloe Robertson may only be seven years old, but she already has a distinctive sense of style. Looking angelic in a black frock with a lovely white lace detail, she completes her romantic look with our patent beaded Mary Janes in pretty pink, which feature faux pearl embellishments on their straps.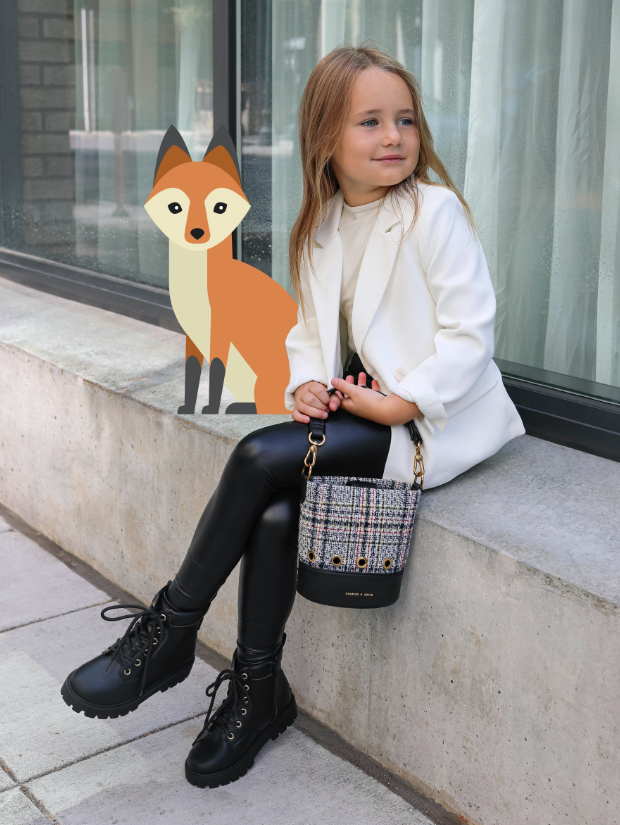 JASMIN MALOFEY
With tens of thousands of followers on social media, young Jasmin's ultra-chic outfits would inspire even grown women. Wearing a pristine white blazer over shiny black leggings, she looks ready for a day out in town as she stepped out in our sturdy lace-up ankle boots in timeless black, with an autumn-perfect tweed bucket bag on her arm.