FALL/WINTER 2019: 6 STANDOUT SHOE TRENDS YOU'LL LOVE
EDITOR'S PICK
Fall/Winter 2019:
6 Standout Shoe Trends You'll Love
Every season has its signature style and while boots are synonymous with fall and winter, this year, we're seeing footwear trends that are hitting that elusive sweet spot between statement-making and wearable comfort.
Spotted on the street style circuit is an eclectic mix of animal prints, elegant jewel tones, nifty nylon laces and yes, even delicate open-toe options (for those rare, but precious, sunny days). Good news for boots lovers, there's not one, but three stunning designs that will take you through #sweaterweather in supercharged style.
So, whatever your vibe, find your fashion tribe in our guide to the top shoe trends for fall/winter 2019.
#1 EDGY LACE-UPS
#1 EDGY LACE-UPS
A gorgeous pair of boots is essential to any autumn/winter wardrobe. Having one in a two-tone lace-up design is an added bonus. Our white-and-black kitten heeled booties are a great alternative to your usual basic black pair. Nylon laces lighten up the tough pointy-toe silhouette, giving these beauties an empowering and edgy vibe.
Complete the look… The styling options are endless with this number thanks to its versatile colours and comfy heel height. We're thinking boyfriend jeans, flare skirts or even a silk slip dress teamed with a cropped jacket for a glam-meets-grunge look.
#2 JEWEL TONES
#2 JEWEL TONES
Sumptuous jewel tones are making a timely comeback, ready to give your festive outfits a rich and sophisticated finish. Our emerald green knee-high boots tackle more trends than one. Boasting a gorgeous sculptural cone heel, plus a glossy croc stamp, it adds dimension and has enough panache to solve any sartorial dilemma.
Complete the look… Stunning boots like these deserve to be kept on display all day. Wear yours over fitted jeans and an off-shoulder top and complete your ensemble with a quilted crossbody. You couldn't be more on-trend if you tried.
#3 RUGGED ELEGANCE
#3 RUGGED ELEGANCE
We love a good #throwback style – even more so when it involves a sturdy punk sole. With printed laces that run all the way up to your ankles, these shiny black booties are versatile for the highs and lows of fall/winter weather. They are also a welcome style reprieve after months of ladylike warm weather shoes.
Complete the look… Cool boots will no doubt make the perfect finishing touch to a jeans and jacket pairing. But, if you're in the mood to experiment, use them to add a tough edge to floaty floral skirts and tulle dresses for a '90s boy-meets-girl mix.
#4 NYLON THREADS
#4 NYLON THREADS
Our slide sandals get reinvented this season with playful printed nylon threads and in a Viridian blue hue. An easy-to-wear style, they are a fail-proof way to perk up any wardrobe. But how do you wear them when the temperature dips? Break out the socks, of course. Try these beauties with black knee-high sheer stockings or dial up the drama with a printed pair.
Complete the look… Throw on belted Bermuda shorts and a fitted sleeveless top for a flawless way to bring your summer favourites into your fall/winter wardrobe.
#5 BARELY-THERE STRAPS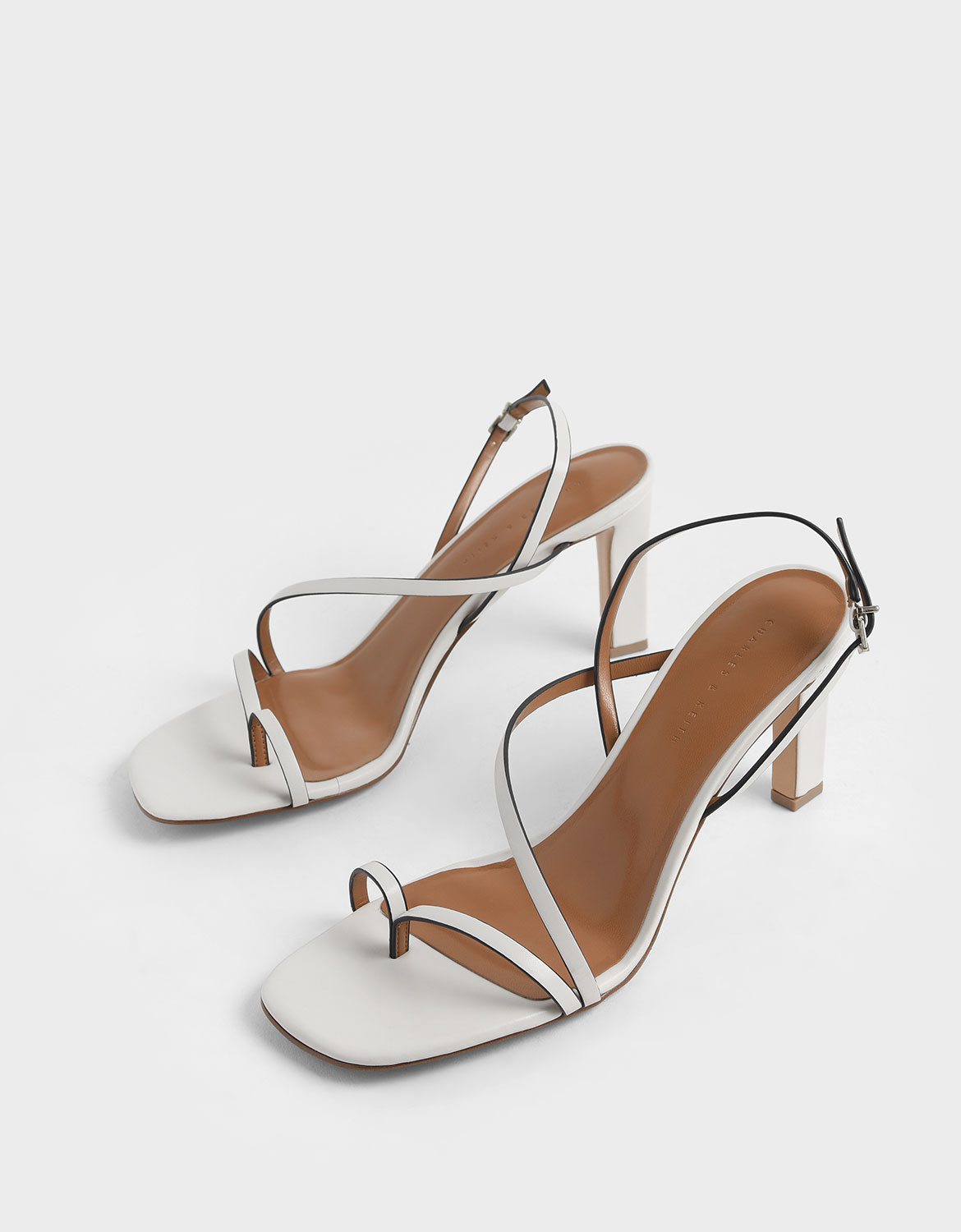 #5 BARELY-THERE STRAPS
Not ready to give up on your favourite open-toe heels just because winter is around the corner? Us, too. Indulge in a little sandal action with this fresh white number featuring a thong strap. With its minimalist, modern silhouette, this delicate pair will give layered ensembles an elegant finish.
Complete the look… For a drool-worthy look, style our strappy sandals with a red silk slip dress worn over a basic white turtleneck.
#6 SNAKE PRINT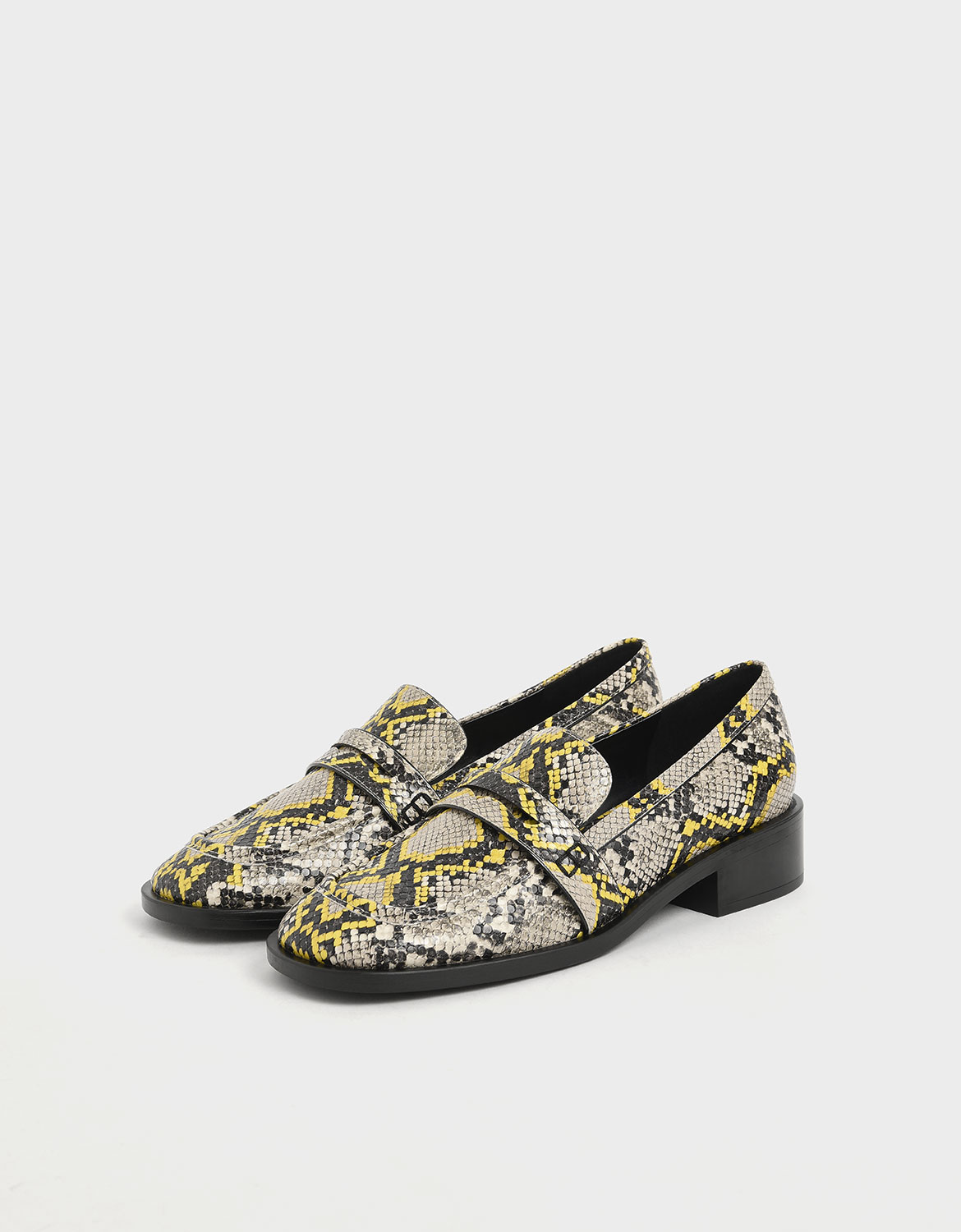 #6 SNAKE PRINT
Maximalists, rejoice! Animal prints show no signs of slowing down as we enter the colder months with faux snakeskin being the clear front runner. Not one for the wallflower, our multicoloured snake print penny loafers offer 24-hour appeal, adding a little attitude to low-key outfits.
Complete the look… For full-throttle ferocity, slip these penny loafers on with white socks to take a basic cropped jeans and blazer combo to new heights.
Now that we've given you the lowdown on the latest fall/winter footwear trends, there's only one thing left to do – make space in your shoe-drobe as you browse our full edit.